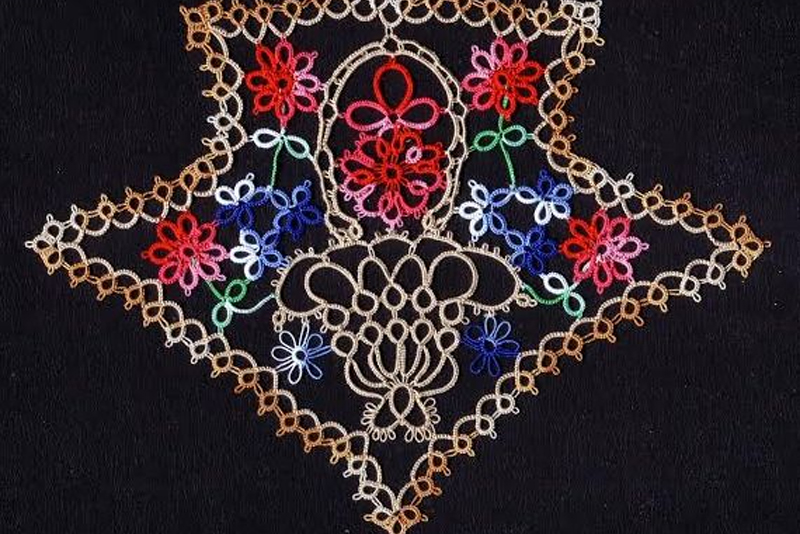 Norma Benporath (1900 - 1998) designed lovely tatting patterns which were published by SEMCO in the pre- and during the WWII years. There was a great struggle to get permission to use scarce paper for that purpose and it was a tribute to her affect on morale that it was possible. She was also published later in the Australia Home Beautiful magazine and others. Although blind in her latter years, she was a member of the Tatting Guild of New South Wales. They are now the holders of her works some of which are back in print.




Norma received the highest distinction for a tatter of which I have ever heard. She was awarded the Order of Australia Medal for work in tatting.




This pattern caught my attention because of its oval shuttle-like shape. It is from the Home Beautiful Tatting Book #4.








The original cut and tie instructions contained confusing info about the center daisy:


The Daisy: Centre ring 1 ds 8 p sep by 2 ds, 1 ds. Tie but do not cut threads off. Ring, 3 ds, 3 p sep by 3 ds. * Join to nearest p of centre ring. Ring, 6 ds join to last p of last ring 6 ds, p, 6 ds, p, 6 ds. Repeat from *. Join last ring to first one, and also to p of centre ring. Tie and cut off.




Clover Leaves: First ring, 7 ds, join to p of a ring of the daisy 7 ds p 3 ds p 7 ds p 7 ds. Second ring 7 ds, join to last p of first ring, 10 ds 4 p sep by 4 ds 10 ds p 7 ds. Third ring, 7 ds, join to last p of 2nd ring, 7 ds p 3 ds p 7 ds join to p of next ring of daisy, 7 ds. Tie and cut. Work another similar clover on the opposite side of the daisy.




Border of the Medallion: Ring 3 ds p 3 ds p 3 ds join to p of ring on daisy 3 ds p 3 ds p 3 ds. Chain 3 ds, 5 p sep by 3 ds, 3 ds. Ring as last; join it to next ring of daisy. Chain as last chain. Ring 3 ds p 3 ds p 3 ds, join to first picot of first ring of clover, 4 ds p 4 ds. Chain 3 ds 3 p sep by 3 ds, 3 ds. Ring 4 ds join to last p of last ring, 4 ds, join to next p of clover ring, 3 ds p 3 ds p 3 ds. Chain 3 ds 5 p sep by 3 ds, 3 ds.




Now make another similar pair of rings, joining them to first and second p's of second ring of clover. Make chain between with 3 p on it. After second of those rings make a chain of 3 ds 7 p sep by 3 ds, 3 ds. That completes one quarter of the border of the medallion. Work the rest to correspond.




If you read your way through those old-fashioned directions you will understand how easily errors can creep into patterns. This is why a great diagram like the one below by Jane Eborall makes everything so clear.




And the diagram points out that it is not absolutely necessary to tat the oval in three separate pieces and surround the three with the border. Instead, the tatter can determine more than one way to tat the oval without cutting the thread until the end. Here is just one suggested method.




Begin the daisy with a round center ring short one picot. Climb out into the outward facing rings with a mock picot. Tat around, then end with a split ring to climb out into the border at ring J and continue across to ring N, use split rings, self-closing mock rings, floating rings and a split chain to proceed to chain T. Please review the Dora Young alternative split ring technique. Continue around. (Right click and save the diagrams for easier viewing in your graphics program.)


You Should Also Read:
Needlecraft Magazine 1922 Corner
Marilee Rockley's book, Up and Tat em
Joins - Tied, Catherine Wheel, Alligator

Related Articles
Editor's Picks Articles
Top Ten Articles
Previous Features
Site Map





Content copyright © 2022 by Georgia Seitz. All rights reserved.
This content was written by Georgia Seitz. If you wish to use this content in any manner, you need written permission. Contact Georgia Seitz for details.