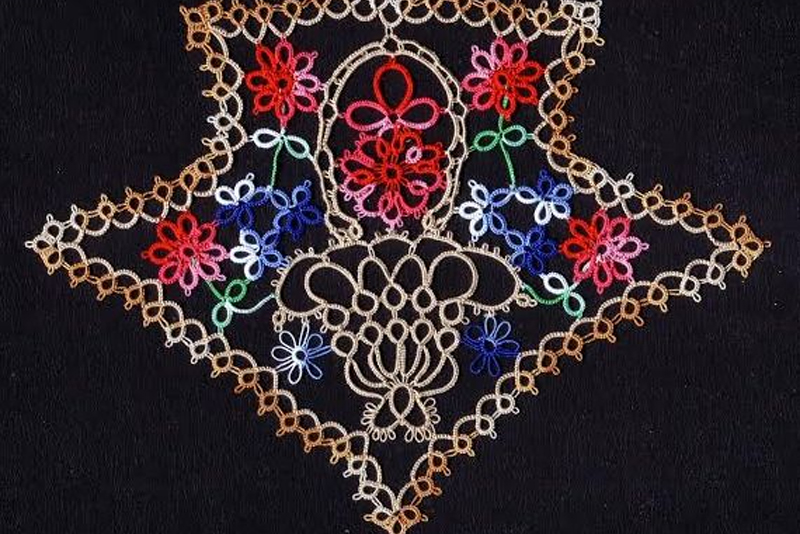 Japanese Needle Tatting
Japanese Style Hook Needle Tatting was developed by Toshiko Takashima from Osaka, Japan. A talented designer she learned tatting, knitting from sisters at childhood and later learned Ribbon embroidery from Shizue Sanda, French embroidery from Leonie Miura, Knitting from Yasuko Uga and Continuity lace from Kazuko Yamashita.
1974 Published the book "Takashima Tatting".
1976 Performed tatting on NHK( Japan broadcast) TV program FujinHyakka at Exhibition at Mitsukoshi Department store.
1978 Received a patent for both hook needle tatting tool called Takashimabari and the hook needle
tatting method of chain by using Takashimabari.
1980 Published the book "Hook Tatting" from Vogue Nippon.
1986 Held the Work Exhibition at Junkudo at Paris.
1998 Attended Ring of Tatters tatting day in England and introduced Takashima needle tatting.
2008 Joined Horstmar International Tatting Exhibition in Germany.
Since 1988 holds annual exhibition at Ashiya city and participates in the hobby shows at Tokyo, Osaka, and Nagoya.
Member of Ring of Tatters and the Japan Tatting Association.

https://www.bellaonline.com/articles/art18859.asp

https://www.takashima-tatting.com/english/tool/tool02.html

takashimatatting@kcc.zaq.ne.jp


You will need patience to master this needle tatting technique. Unlike shuttle tatting and traditional needle tatting, the tool does not hold a supply of thread with which to work. Instead, Japanese needle tatting functions more like crochet in that it draws continually from the ball of thread. This diagram of instructions is in the public domain and has been posted for tatters for several years.


A. There is a hook at either end of the Japanese tatting needle and it does not matter which end you use. Bring the tail of the thread to the mid point of the needle. With other hand grasp the thread make a loop over a finger. Insert hook into this loop and transfer to the needle and remove slack.

B. Make another loop (facing the opposite direction) and transfer it to the needle and remove slack.

C. This forms one double stitch.

D. Continue in like manner for the length needed.

Up to this point, the procedure is the same as regular needle tatting.

E. As shown in illustration D. grasp the thread from the ball with the hook and pull this loop completely through the double stitches, until there is a small loop of thread at both ends of the line.

F. Insert the hook fully through the loop on the right and reach forward to the left end and grasp the little loop.

G. Pull this loop through the right end loop and remove slack. This forms a ring.



You Should Also Read:
Selection of Japanese Tatting Books


Related Articles
Editor's Picks Articles
Top Ten Articles
Previous Features
Site Map





Content copyright © 2023 by Georgia Seitz. All rights reserved.
This content was written by Georgia Seitz. If you wish to use this content in any manner, you need written permission. Contact Georgia Seitz for details.