Il Lavoro Chiacchierino Series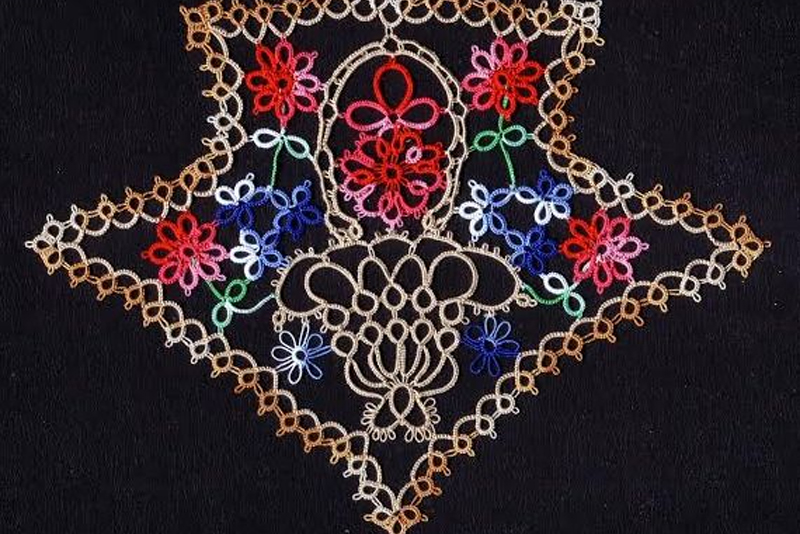 This long-running series of tatting books produced by Mani di Fata is a treasure trove of traditional tatting patterns. Some vintage patterns have been used or adapted over the last two decades but much of the work is original tatting designs in the traditional style.
Intended for the European market, the books always include tatting embellished table linens and bed linens. The tatting is photographed in a dressed table setting or similar environment and the photos are in beautiful color. The text is in Italian but there are close up detailed photos of the projects which allow the tatter to follow the pattern. (A list of tatting terms equivalents may be found at https://www.bellaonline.com/articles/art23713.asp)
Here are the covers of issues #4 - #16 with a description of some of my favorite patterns from each issue. At the end of the list are three samples showing the style of patterns.
#4 Although I may never attempt so large a project, there is a huge tablecloth pattern in this one which fascinates me.
#5 One centerpiece is composed solely of 8 ring/chains rosettes but arraigned in a checkerboard fashion which gives it a contemporary look.
#6 Among many wonderful pieces, this issue contains a full bedspread and a set of window curtains!
#7 Full tutorial on how to tat in featured here with many versatile edgings and centerpieces.
#8 Tatted gloves and wedding favors vie for attention with a tablecloth embellished with simple flowers and leaves.
#9 The colored tatted lace samples in this issue are a departure from the traditional white, cream and ecru thread featured most often in this series. Several "smaller" projects such as motifs, a fan and a butterfly are included.
#10 Baby clothes in colored tatting vie with tatted lace collages and free-standing flowered branches in a basket in this cheerful spring-themed issue.
#11 Clothing for adults and babies are among the many smaller projects. Fewer huge tablecloths and many ideas for dressing up many household objects with tatting.
#12 Beautiful flowers patterns fill the pages of this issue vying for attention among the layette and wedding items.
#13 The tatted accent attached to everyday flip flops in this issue are worth a smile.
#14 A charming bonbonniere, a pincushion pattern and a throw pillow are easy projects tucked between many utilitarian household linens made fabulous with tatting.
#15 The tatted Madonna picture overlooks a bedroom graced with bed linens and bath towels all decorated with tatting. But how anyone would dare sleep on those beautiful linens is beyond me.
#16 The tatted jewelry in this issue was a great surprise as was the nightgown with tatted yoke.
Book #17 was published in 2013. Once again this Italian series offers beautifully photographed tatted pieces. The tatting is displayed in use as household linens, tablecloths, curtains and even jewelry. Some of the motifs and patterns are recognizably vintage; a few are modern looking. Unfortunately, Casa Editrice Mani di Fata continues to publish this wonderful magazine without diagrams and only in Italian. About a third of the photos are enlarged enough to be able to count the ds. With a firm understanding of tatting construction and the list of tatting term equivalents (see link below), the experienced tatter can reproduce many of the patterns.




#11 sample of style from pg 25

#3 sample of style from pg 19

#4 sample of style from pg 29




Issue #18 published in 2015 is a gorgeous a publication as you can get. The full color photographs are fantastic. There is a varied group of patterns. Bridal accessories, ring pillow, tatted hairpiece, boutonniere, gift or sachet bag are all delicate looking but will tat up easily. Household linens are always the mainstay of this booklet. This time we also have curtain embellishments, tablecloth insertions and doilies of all styles.




ED's note: I acquired all these books for my personal reference library. G. Seitz

You Should Also Read:
Italian - English Tatting Terms


Related Articles
Editor's Picks Articles
Top Ten Articles
Previous Features
Site Map





Content copyright © 2023 by Georgia Seitz. All rights reserved.
This content was written by Georgia Seitz. If you wish to use this content in any manner, you need written permission. Contact Georgia Seitz for details.